SquiffyPwn iOS 7 kernel has memory compression like OS X Mavericks
@tjmanotoc thanks! :) we've been helping them since they started, you could almost call us co-founders hehe
There're a lot of fantastic essays on Gone Home, but do yourself a favor: don't read them (yet). Go try it first, trust me.
Late to the party, but I just finished "Gone Home". Totes worth it. Great example of narrative-building in games, and subverting expectation
buffer Hi all. So sorry, it looks like we've been compromised. Temporarily pausing all posts as we investigate. We'll update ASAP.
Amadeus_IOM Feels like every fire truck in the Metro is here. @YouScoopGMA #guadalupe #Fire instagram.com/p/f8EdbBIWFX/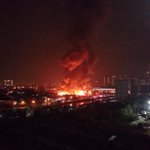 perfectweiss Huge fire somewhere near Guadalupe @MMDA #MMDA pic.twitter.com/ecs9M9r0fc