Domain sniping. Finally got phi.ph ! :D (Next goal: start writing, make blog.)
latteine @stroughtonsmith Only Google could call an organisation Open Handset Alliance and contractually forbid to produce non-proprietary products.
@RyanSumo I did research (lol): the major inaccuracy is for the sake of plot. (orbits of ISS, Hubble, and satellites lining up— they don't)
_wirepair Congratulations on your device purchase!
Would you like:
A. A US Backdoor.
B. A Chinese Backdoor.
C. A Vendor Backdoor.
@RyanSumo I actually have much more to say, but 140 chars won't cut it. We should hang out again some time :P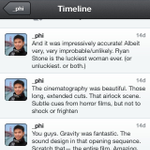 @RyanSumo @cammercheanger first watch was a while back… but luckily I tweeted my thoughts thenpic.twitter.com/mso7TCQFgQgQ
And mixing in IMAX seemed better overall. But again, maybe it's just Greenhills (or you know, just me. haha.) I will stop nitpicking now.
This was most apparent in the title card, w/ the intro text and crescendo score that sharply cuts to silence. You could hear the A/C in GH…
That said, seems Gravity actually sounded better in IMAX than Atmos(?!) —maybe Greenhills miscalibrated. Noise floor was too high.#filmnerdd
Watched Gravity for the 2nd time with @cammercheanger! This time, in Dolby Atmos. Still loved it. (And made even more mental notes again)