winocm "Bad programmers worry about the code. Good programmers worry about data structures and their relationships."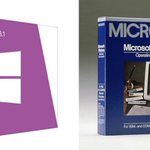 msdev WIndows 1 to Windows 8.1 #throwbackthursday #tbt pic.twitter.com/jzhJDrCPSl
NASA We're back and in the process of turning things back on! nasa.gov and #NASA TV will be up as soon as possible!
@RyanSumo flour, cocoa, milk, eggs, butter… stuff for a cake. sure am glad the recipient doesn't check Twitter that often.
Sure hope this ends up edible. I usually cook up code and pixels, not food instagram.com/p/fkVxptBk20/
Yeah, I don't think that's going to work
@MonteCorpuz thanks! It already works now in your mobile browser. :) We might do native apps (iOS/android), but no ETA yet.
@glencharles webdev? I'll drop by Ateneo soon. (grades, haha.) Or you can come to our office? ;) hirap kasi mag-feedback online.